Connecting you to in-demand jobs and individualized support.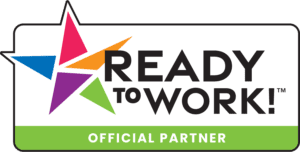 We partner with community leaders to provide quality career opportunities.
Helping you build a better life.
Individualized workforce training for maximum results.
We've built a skills training program that can deliver you to the career of your dreams in healthcare, advanced manufacturing and trades, or IT and cybersecurity.
Change your life with us today.
Our retraining program is one of the most successful in the country, with a 90 percent completion rate. Focusing on the most in-demand industries, we help prepare the next generation of leaders in emerging fields.

Trades + Advanced Manufacturing
With qualified skills training and job placement, we can help you land a manufacturing or trade career in HVAC, plumbing, welding, auto services, construction technology and more!

With customized skills training and personal career coaching, we make sure you have what you need to succeed in your healthcare career.

We partner with local leaders in the IT field to bring you cutting-edge tech skills and certifications. in areas like cybersecurity, web development, and computer programming.
Years of Service to San Antonio Residents
Placement Rate for Program Participants
ROI in 5 Years for Every $1.00 Invested!
Through the birth of my first child and as I grappled with financial setbacks, I was able to work with a Project QUEST advisor to stay focused on my goals. Today, I'm a registered nurse at St. Luke's Hospital and couldn't have done it without the support of Project QUEST."
Kristin
Registered Nurse • St. Luke's Hospital
Without QUEST and the support of my family, my dream would have remained but a dream. QUEST was not just a source of aid, but also a source of encouragement, and often a source of friendship. They truly care about what they are doing for every individual."
Michael
Cardiovascular Intensive Care • Methodist Healthcare System
If you had asked me in high school if I was going to get my Master's, I would have laughed at you. Every time I talk about Project QUEST, I get so emotional because I would not be where I am today were it not for them. They led us all the way to the door of getting a job."
Rhiannon
Instructor + Registered Nurse • Galan College of Nursing, BAMC
At QUEST, you're never alone. Our staff will work closely with you to understand your distinct needs and provide support. From helping cover the cost of tuition and books or offering rental assistance to practicing interview and test-taking skills you can ace your tests and your interviews, we're with you every step of the way.